There are three Tonic chords in any key, as explained here. There are three Dominant chords, too. So most of the chords in your chart can be simplified as either Tonic or Dominant. If you know the key, then you know what lick to use.
But … most songs have key changes, too. And that is more challenging as you will have to change the notes you play. The colour system helps you out:
Determine the main Key of the song with the Circle of Fifths. For instance: G Major (one sharp).
Find the G Major (Tonic) chords in your chart. They could be spelled G, or Gmaj7, or G with a triangle (major keys) G7 is not a Tonic, but a Dominant chord!
Around these G Major Tonics ('I') are often other Tonic and Dominant chords. You're looking for 'III' and 'VI' (Em7 and Bm7) and 'II', 'V' and 'VII' (Am7, D7 and F#m7b5).
Give these G Major Tonic and Dominant chords the colour green, for the Root.
Find other Keys in the song (these could be Major or Minor) by looking for other Tonic chords. For instance, C Major, with he colour blue. Go through the same steps for each these, giving every Key its own colour.
Here is the colour system applied to the chords of I Can't Give You Anything But Love (G Major), with lick suggestions from this book. Note: Secondary Dominants do not have a colour as there is no Tonic (or key) for them.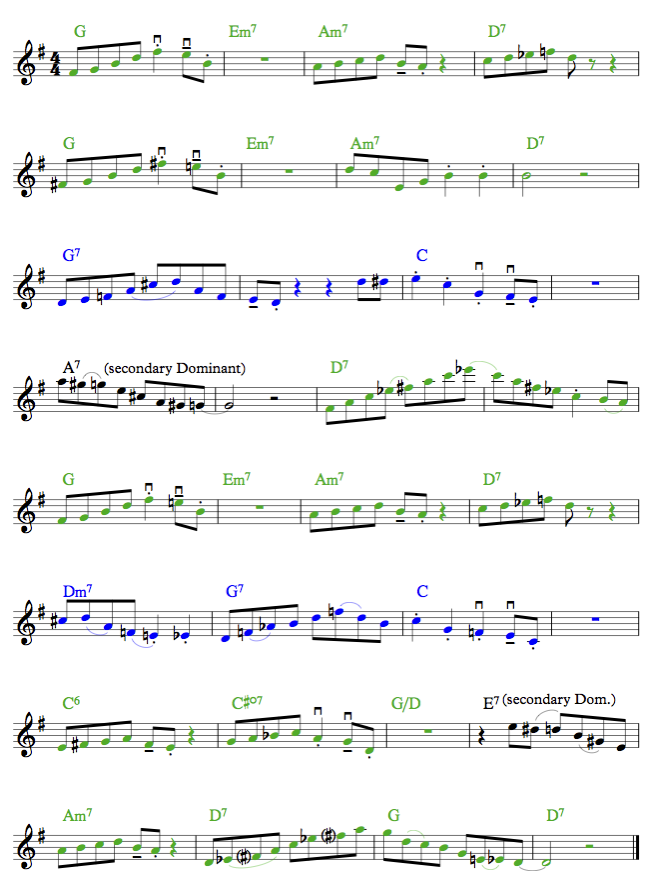 And here is the colour system applied to the chords of All of Me (C Major), with an added red colour for the A Minor key.